August 25, 2022
19 journalists from local print and broadcast media, including community radio, participated in a training titled 'Training on Interpretation of Early Warning Information for Local Journalists' in Bogura, Bangladesh on Tuesday.
The training aimed to enhance the knowledge and capacities of the journalists and broadcasters on dissemination of weather information and flood early warning to the local communities. The training sessions covered various topics including interpretation of weather and flood forecasts, thunder-storm and lightning science, last–mile communication and consideration of weather anomalies among others. At the training, participants talked about the types of support they expect from the national meteorological and hydrological service providers (NMHSs) and discussed areas of possible collaboration with RIMES to strengthen last mile communication. The recommendations included development of effective Public Service Announcements (PSAs), IEC materials, awareness raising programs for students/youths and courtyard sessions with local communities among others.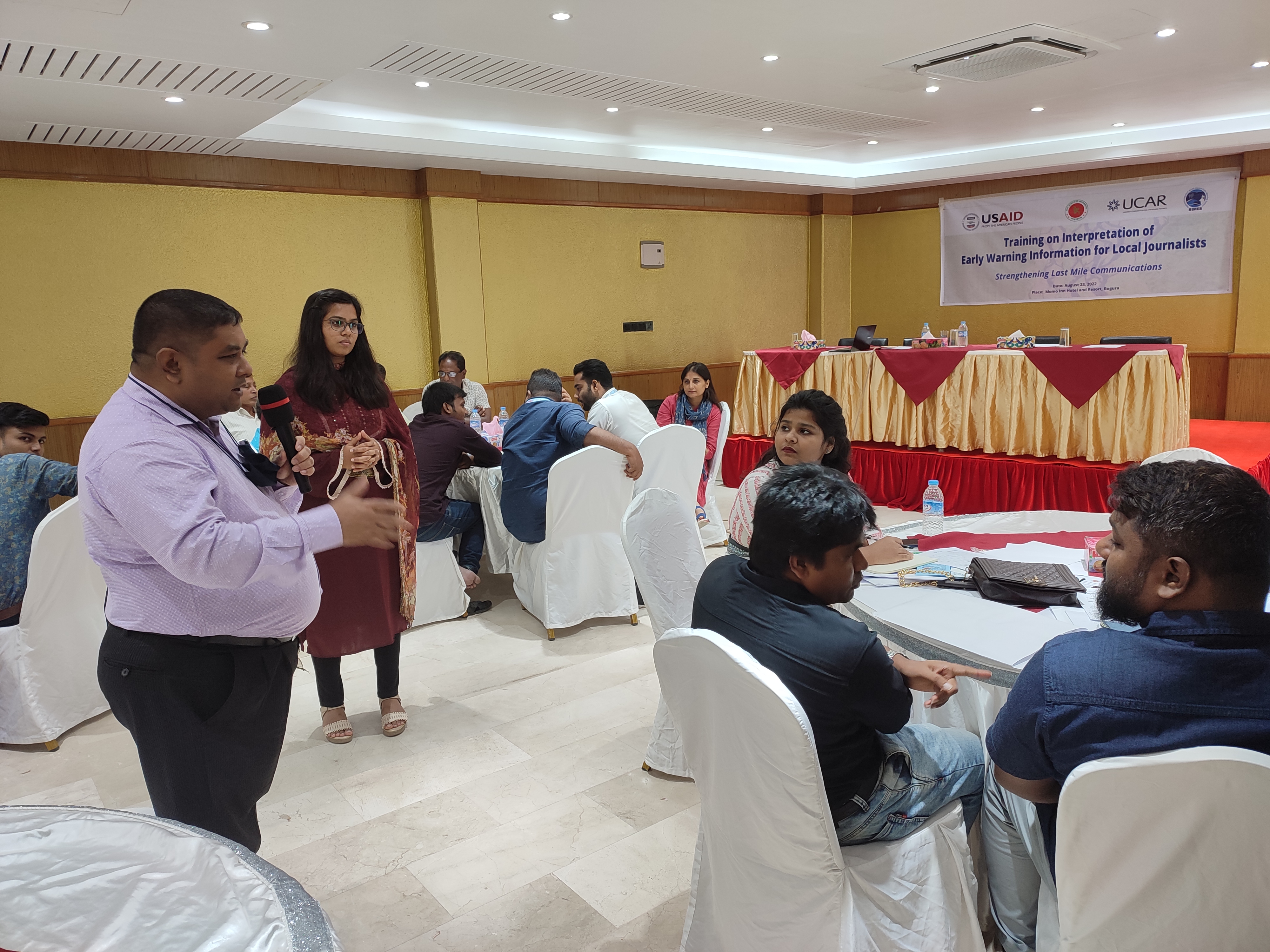 Md. Arifuzzaman Bhuyan, Executive Engineer, and Sarder Udoy Raihan, Sub Divisional Engineer from the Flood Forecasting and Warning Center (FFWC) attended the program as facilitators along with RIMES team members.
The training is a part of a series of capacity building initiatives for media practitioners to help them interpret early warning information, build enduring relationships with NMHSs and create practical and actionable programming for the local communities. The initiatives are a part of the 'Strengthening Last Mile Communications' program, which is being implemented in four countries across the South Asia region including Bangladesh, Nepal, Pakistan and Sri Lanka. It aims to work on climate resilience through effective dissemination of timely early warning information among last-mile users for improved disaster preparedness and risk mitigation. The program is funded by the United States Agency for International Development (USAID) through the University Corporation for Atmospheric Research (UCAR) and is implemented by RIMES.