SESAME is a web portal for generating and disseminating crop management advisories for specific crops at particular  growth  stages,  based  on  weather  and  climate  information  at different timescales. 
Four timescales offered by the system: 
3-day high resolution weather forecast to inform daily decision-making
10-day weather forecast (separated into two pentads) for planning week-ahead activities
monthly outlook for planning activities that require longer lead time 
3-monthly outlook for long-term seasonal planning    
SESAME  maps  crop  sensitivity  to  a  particular weather condition, processes how the predicted weather shall influence crop growth, and generates crop advisories using machine-learning algorithms.  
The system has capabilities for disseminating bulletins via email, SMS, fax, social media (Facebook), and mobile app, as well as capability for receiving user feedback. The system generates:  
real-/ near real-time or most recent observation data and weather information for the past dekad, month, and season to aid understanding of current and recent historical weather condition
daily weather forecast, daily update of the pentads (five-day spells), and monthly and 3- monthly outlooks; information on the normal for the pentad, dekad, monthly, and 3-monthly climate
crop management advisories, accompanying the forecasts and outlooks.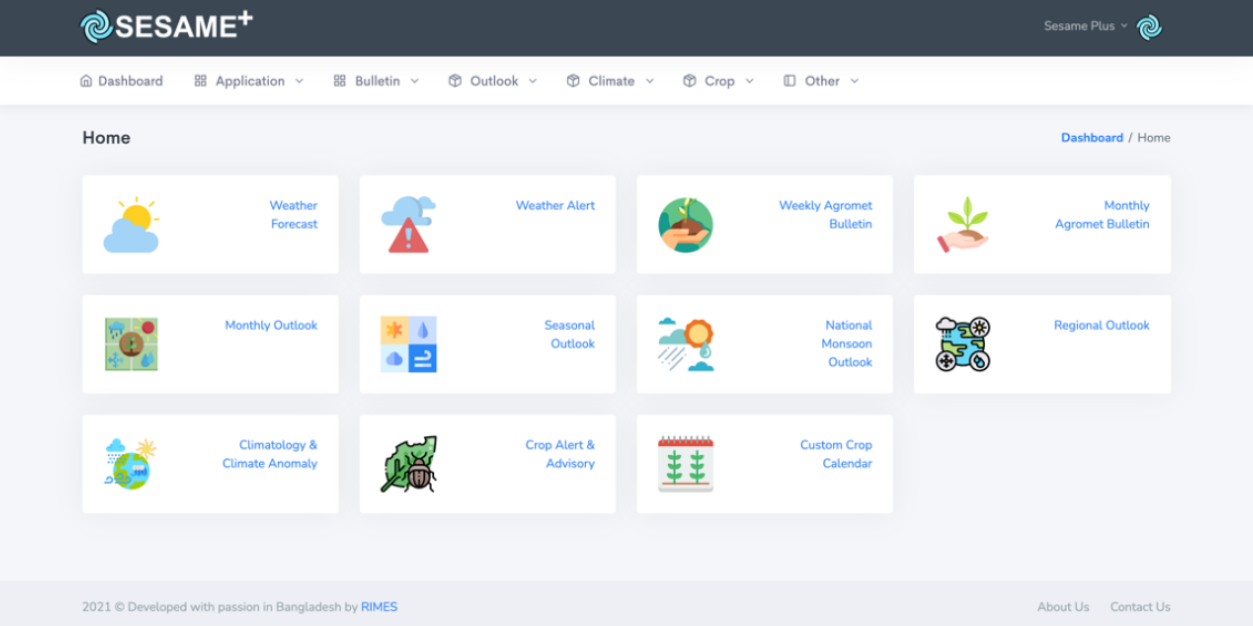 Customization of SESAME
The prototype of SESAME for Punjab Agriculture Department (PAD), Pakistan was completed by the RIMES Systems Development Team in 2021. The system was enhanced for Myanmar and customized for Nepal to provide seasonal forecast based advisories. Furthermore, capabilities for Met Services to  include their regular seasonal forecast was built into the system, along with mobile application for improved call center service, My crop and Voice messaging services. 
 
SESAME Plus DSS
SPLUS, an upgrade to the existing SESAME DSS of RIMES, is a tool for generation and dissemination of tailored advisories for key national stakeholders, catering to the needs of the agriculture sector.
RIMES in collaboration with UKMO, Bangladesh Meteorological Department (BMD), Department of Agriculture Extension (DAE) and Bangladesh Rice Research Institute (BRRI), developed SPLUS as a part of ARRCC.  
SPLUS enables key stakeholders such as DAE, BRRI, BARI to tailor advisory services in the north western and south western region of the country. The DSS comprises three key modules e.g. weather and climate module, crop module and advisory generation and dissemination module.